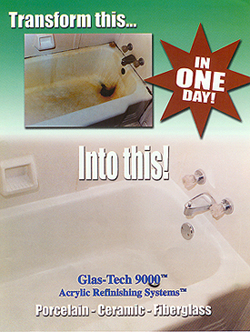 Satisfaction Guaranteed!

With over 30,000,000 successful applications worldwide, the Glas-Tech 9000 process is truly refinishing at its finest. Our technicians are highly trained and take great pride in their work. The result is unequaled performance combined with the most proven products & techniques.

The Glas-Tech 9000 process is the one process you can trust for your remodeling needs. Our vast experience and precise application knowledge are unsurpassed and will ensure the most important requirement of all...your satisfaction.

Premier Surface Refinishing is a non-franchise company that is locally owned and operated. Owner Joe Strycharz specializes in porcelain & fiberglass refinishing of bathtubs, showers, tile, sinks and countertops. For more information, please view the below photos and brochures.
Why Refinish instead of Replace?
Replacing your bathtub involves not only the cost of the new tub, but the added expense of replacing wall and floor tile, wall board, plumbing & hardware (more)

Refinish Your Tub & Tile Together!
Refinishing your bathtub & ceramic tile or fiberglass wall surround at the same time is the most economical method to quickly upgrade your bathrooms (more)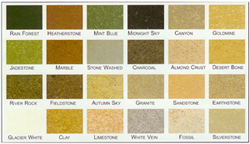 Color Choices
With a dazzling array of new decorator colors to choose from and the ability to quickly apply Stone-Flecks, few other materials offer such exceptional savings and design freedom for kitchens, bathrooms and beyond (more)