For 18 years, Special Requests Catering has brought quality catering, great service, reasonable prices, and care and consideration to the Hatfield and great Valley communities. We bring the integrity of these 18 years of experience, longer than anyone else in the area, to each and every event that we cater. Whether it's a wedding, Jack & Jill, baby or wedding shower, corporate event, company picnic, funeral, barbecue with our famous "fall off the bone, finger lickin' good" ribs, or any other function, we've done them. We've even done 10 years of tailgate parties at every home Patriots game in Foxboro.
Our experience and dedication to our customers have helped us to maintain a reputation unsurpassed in the area. Our reasonable prices have always given people a viable alternative to the high prices of local banquet facilities, without sacrificing quality or service. Our "everything is included" price structure has eliminated the cost for the customer of all the "extras." This includes all of the dishes, silverware, linens, paper goods, etc.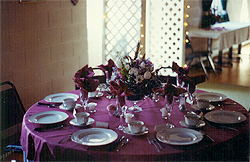 We thank you all very much for your patronage over the last 18 years. We look forward to serving the greater community for years to come from our new home at the Hatfield Congregational Church on Main St., where we can cater your event in the newly renovated dining room. For all your catering needs, Special Requests is the answer.